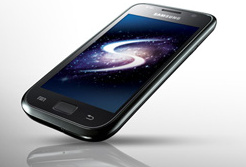 Samsung
certain likes to be the first a lot, like when it had the first DivX-certified handset, and now the company has done it again.
With the
Wi-Fi Alliance
just starting to certify
Wi-Fi Direct
devices last week,
Samsung
's
GT-I9000
handset has already been listed on the Wi-Fi Alliance website as Wi-Fi Direct certified. A lot of modern-era Wi-Fi devices are capable of becoming Wi-Fi Direct certified, most likely through system updates as there is no hardware change in the protocol.
That is l
ikely how the Samsung handset will become Direct-capable
, a
firmware
update of some sort.
Wi-Fi Direct allows compatible devices to communicate with each other using Wi-Fi but without the need for a wireless access point or wireless router. This functionality could be added to a lot of existing smartphones on the market with system updates if the manufacturers follow Samsung's lead.