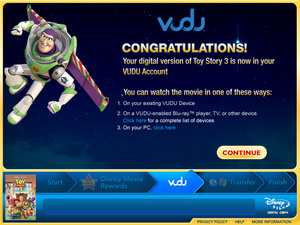 Wal-Mart
and
Vudu
have announced this week that all buyers of physical copies of the new release
Toy Story 3
from
Wal-Mart
will receive a free digital copy from Vudu.
The only catch is you will need to purchase the Special Edition 3-Disc Set on either
DVD
or
Blu-ray
. Single-disc sets are not included in the promotion.
Buyers can play their Vudu digital copy anywhere with an Internet connection, including via Blu-ray players, the Boxee Box and other set-tops.
The
new offer
seems to be following a trend started by
Amazon
last year with the launch of
Disc+
which gives users a free digital copy of over 10,000 titles when they are purchased through Amazon.
Wal-Mart acquired Vudu last year.