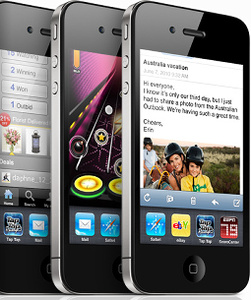 Bank of America
and
Citigroup
, two of the U.S.' largest banks, are prepared to allow employees use of the
Apple iPhone
for their corporate email needs, moving away from the
BlackBerrys
.
Both banks are currently testing smartphone software that will make the iPhone secure enough for corporate messages, says
Bloomberg
.
RIM BlackBerrys, once the standard for corporate smartphones, have been abandoned by a number of large corporations, with the latest being
Dell
, which said it would be switching from BBs to Windows Phone 7 devices made by themselves.
Says one analyst:
"People are delighted with their iPhones and Android phones and they want to use them for work. The result is RIM now has real competition for corporate customers."
Apple CEO Steve Jobs said last month that a full 80 percent of the Fortune 500 list is testing software that will let their employees use iPhones or Android devices for corporate email, moving away from BlackBerrys.
Bank of America and Citigroup have a combined 542,000 employees.