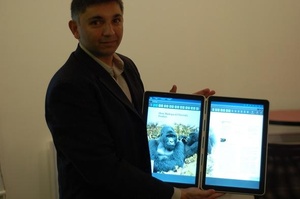 Kno
has launched their massive 28-inch dual-screen tablet this week, selling it for $900.
A single-screen (not 28-inches) version will sell for $600.
CEO Osman Rashid said of the device (
via BI
):
"Our long term direction is to be a platform, not just a hardware company. We have priced the product accordingly. It's about building a long term relationship with students."
That being said, the tablet maker will have a "maniacal focus on education," built not "as just another tablet with touchscreen" but as an "education device for the millions of students in the world."
Pre-orders start today for a December release date.
Tech sites should be getting review models in early December.