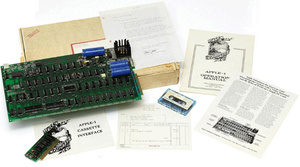 A 1976
Apple 1
computer, one of just 200 ever built, will go up for auction through
Christies
on November 23rd, with the Mac expected to fetch around $200,000.
Each Apple I computer was hand-built by Apple co-founder Steve Wozniak.
The device going up for sale is #82 of the 200, and will sell with original packaging, manuals and a letter from CEO Steve Jobs.
Apple I computers have 8KB of memory and an eight-bit processor.
Reads the auction description:
"The first Apple computer, and the first personal computer with a fully assembled motherboard, heralding the home computer revolution.

"Introduced in July 1976, the Apple I was sold without a casing, power supply, keyboard or monitor. However, because the motherboard was completely pre-assembled, it represented a major step forward in comparison with the competing self-assembly kits of the day."
The auction house
believes
the computer will sell for up to £150,000 ($205,000 USD). It cost just under $700 to build in 1976.