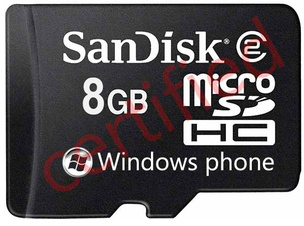 Yesterday we reported that
Windows Phone 7
devices like the
Samsung Focus
could not have their storage easily upgraded, as you will need special "Certified for Windows Phone 7"
microSDHC
cards.
Owners who attempt to update with a "regular"
microSD
card run the risk of messing up their phones, with AT&T even going as far as to put a sticker on the microSD card holding bracket with the capital letters "STOP!"
Today, however,
SanDisk
has confirmed the first "certified" card, with Samsung's support pages saying the following:
Compatible micro SD cards will be branded as "Windows Phone 7 Compatible" on the packaging. Approved cards can be obtained from the manufacturer or carrier. (The SanDisk 8GB class 2 micro SD card has been certified.)
The company also warns that once you use the card in your WP7 device, it will become unusable for other devices.
Says Samsung (
via EWM
):
Once inserted and properly formatted, the memory card becomes an inseparable part of the phone. A micro SD card inserted into a Windows Phone 7 device, and integrated into the device's file system, is intended to be a permanent modification to the device. Once a micro SD card has been integrated into a Windows Phone 7 device's file system, it will no longer be readable or writable on any other devices such as computers, cameras, printers, and so on. This includes an inability to format the micro SD card for use in these devices.