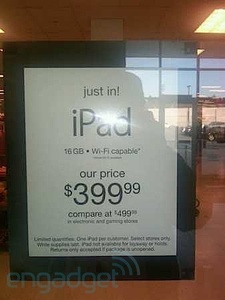 Retailers
T.J. Maxx
and
Marshalls
have begun
selling the cheapest model of the
iPad
for $400 this week, offering a full $100 discount off Apple's pricing.
The cheapest model is 16GB and offers Wi-Fi support.
T.J. Maxx confirmed the deal on its Twitter page today, saying:
"The rumors are TRUE! Select (unadvertised) locations/limited quant."
Earlier in the week,
Sam's Club
began selling the iPad, offering $12 off retail for all models, the biggest discount seen until today.
It is still unclear how the companies can offer the iPad at such a low price, especially without losing a significant amount of money per sale.
Apple
has not suggested any price drop is coming on the iPad.
Although unconfirmed, it appears that some Marshalls stores will be selling only 300 of the devices over a three-day period.