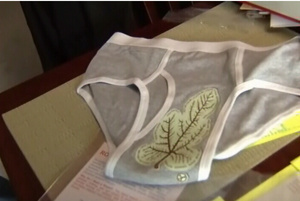 Inventor Jeff Buske has said he has created new clothing products that should protect flyers from TSA body scanner radiation.
Additionally, the new bras and underwear should help flyers who want to keep their private parts a mystery.
Dubbed "Rocky Flats Gear," Buske says he does not care about the politics of the situation, but instead wants to protect citizens from unwanted radiation.
Women can wear special bras or underwear, and men can wear underwear with a fig leaf design that has properties that will block radiation.
The flexible metals will not trip detectors.
Buske has also made it clear that while the fig leaf will hide your genitals it will not hide a weapon or other items from the scanners.
Check the items here:
Rocky Flats Gear
(Pic and story via KFDM)