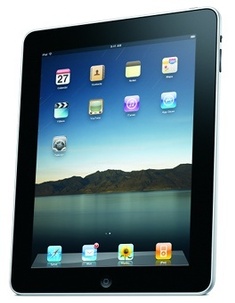 New
sources
have reported that the upcoming iPad 2 will include 5 new "key" features, ones that will likely boost the tablet's sales exponentially.
If accurate, the reports say the iPad 2 will add a front-facing camera for video conferencing (and FaceTime), USB ports,
Retina Display
, 3-axis gyroscope and a carbon fiber (lighter/thinnner) body.
The most notable of the features may be the addition of USB ports, which
Apple
has never added to any of their
iOS
devices.
Retina Display, seen on fourth-generation iPods and iPhones, enhances image performance and colors.
The 3-axis gyroscopes, paired with the existing accelerometer, should provide game developers a new platform for full six-axis gaming.
While still unconfirmed, the iPad 2 should see an April 2011 release, possibly available in multiple sizes.