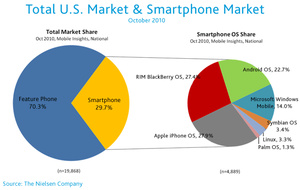 According to new Nielsen data, smartphones now account for 29.7 percent of all U.S. mobile phone subscribers, the highest percentage in history.
Furthermore, for the first time ever
Apple iPhone
has become the most popular smartphone in the nation, taking 27.9 percent market share.
RIM
, makers of the
BlackBerry
, fell to second place, at 27.4 percent share.
Android
has quickly taken 22.7 percent share.
Microsoft's
Windows Mobile
line held at 14 percent, not including sales of the new
Windows Phone 7
which launched in November.
Additionally, Apple's iOS
was named the "most desired"
mobile operating system, with 35 percent of current smartphone/feature phone owners saying they would like to get an iPhone. 28 percent wanted Android. A full 25 percent did "not know" which smartphone they wanted, however.