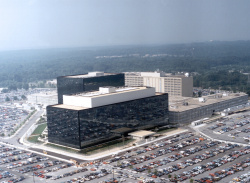 The National Security Agency (NSA) is working on the assumption that all of the most sensitive computer networks under its guard have been compromised.
Speaking at a cyber security forum sponsored by the Atlantic and Government Executive media organizations,
Debora Plunkett
of the NSA said that they have to build computer systems based on the assumption that adversaries will be able to penetrate them.
"There's no such thing as 'secure' any more,"
she said, reports Reuters
.
She heads the NSA's Information Assurance Directorate which is tasked with protecting national security information systems and networks across the world.
"We have to, again, assume that all the components of our system are not safe, and make sure we're adjusting accordingly,"
she said.
Her comments come as the world's governments and media watch the publishing of U.S. embassy cables and other sensitive information on
Wikileaks
, but she declined to comment on the website.
In the September/October edition of the journal
Foreign Affairs
, Deputy Defense Secretary
William Lynn
wrote that over 100 foreign intelligence organizations are trying to break into U.S. networks, with some capable of disrupting U.S. information infrastructures.
Plunkett warned that there is no such thing as a
"static state of security,"
and that the NSA must constantly fine-tune its approach to network security.
While the world's media watch the legal battle involving Wikileaks'
Julian Assange
with interest, the focus for the U.S. Government is Army Private
Bradley Manning
. While stationed in Iraq, Manning had access to the
Secret Internet Protocol Router Network (SIPRNet)
.
He disclosed to a friend,
Adrian Lamo
, in an online chat how he had access to classified networks 14 hours a day, 7 days a week. He would bring in music CDs (CD-RW discs) with labels such as
"Lady Gaga"
, erase the contents of the disc and then burn a compressed file filled with information he got from the networks.
Lamo decided to inform the authorities about Manning's activities in
"an act of conscience,"
but Manning had allegedly already passed (at least) two combat videos and over 250,000 cables from U.S. embassies around the world (at least) to Wikileaks. He faces up to 54 years in prison if convicted of the charges laid against him.
The shocking part of his story is how easy it seemed to be for him to gather so much sensitive information in the first place, and suggests that the NSA, as with other intelligence/security agencies, has a lot of work to do.