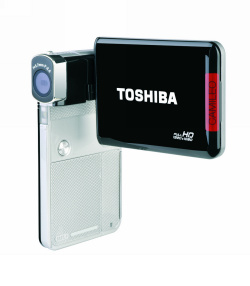 Toshiba's Digital Products Division has unveiled a new ultra-portable full HD camcorder at the Consumer Electronics Show in Las Vegas.
The new CAMILEO S30 camcorder features image stabilization in 1080p, 720p and 480p modes for smooth and clear video. It also offers a 16X digital zoom and a 3-inch diagonal LCD touch screen controls designed for easy navigation.

The CAMILEO S30 also doubles as an eight megapixel digital still camera, and accommodates an SD/SDHC/SDXC memory card with up to 64GB capacity for an estimated 10 hours of recording at 1080p, or 24 hours at the lowest setting.

Using an included HDMI cable and HDMI-out, users can view HD videos and high quality photographs on a HDTV, or upload the content to YouTube, Facebook, Twitter or Picasa easily using an Internet Upload button. "The CAMILEO S30 camcorder is for those who want an easy to use, compact camcorder at an affordable price with the high quality they expect from Toshiba," said Paul Collas, director, accessory marketing, Toshiba America Information Systems, Inc., Digital Products Division.



"This camcorder is another step in Toshiba's expansion of products for consumers who enjoy capturing, sharing, editing and viewing their lives in HD."



The CAMILEO S30 is available from major consumer electronics and computer stores in the U.S., as well as directly from toshibadirect.com, with an MSRP of $179.99.