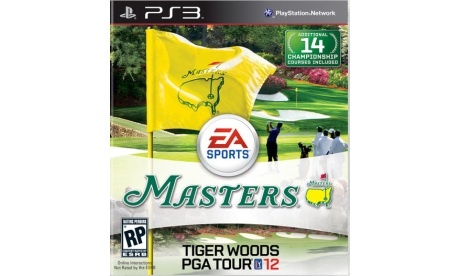 Electronic Arts (EA) has shown off the cover of the upcoming "Tiger Woods PGA Tour 12: The Masters," with its legendary namesake notably missing.
Tiger is removed from the cover of the game for Xbox 360, PlayStation 3 and
Wii
, but will remain on the PS3 Collector's Edition.
The game's cover instead focuses on the yellow flag at the Augusta National Golf Club, an iconic sign of the Master's.
EA started the series in 1999, and the game remained a top seller until last year, when Tiger's golf game took a back seat to his private life.
"Tiger Woods PGA Tour 11," released in 2010, saw 60 percent less sales than the 2009 edition of the game.
Gaming analyst Jesse Divnich gave his take on the situation (
via Yahoo
):
The sales issues of the Tiger Woods video game are much broader and deeper than Tiger's personal problems and has more to do with the entire golf sport struggling in 2010.

Of course, one could argue the decline in the interest of golf has to do with Tiger's extended absence and returned poor performance. But even if that was true, it says a lot about the PGA Tour and their over-reliance on one person to carry the whole league. PGA exposed itself to this risk and now is facing the consequences.
EASports head Peter Moore gave a similar response to Divnich.