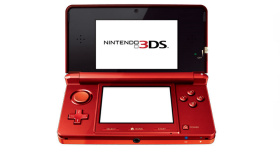 Japanese media is reporting that Nintendo will ship a significant amount of 3DS units in the first week of availability in Japan.
After launch events in the country for previous iterations of the
Nintendo DS
handheld platform have been impacted by supply problems, Nintendo is hoping to avoid the same problem by
shipping 1.5 million Nintendo 3DS units
in its first month of availability after its launch on February 26th.
The 3DS handheld will launch in the United States and Europe in March. It was unveiled at the E for ALL (E3) show in 2010, promising to deliver 3D games content to consumers without the need to wear any kind of glasses for the effect.
Due to the release of
PlayStation Move
and Microsof't
Kinect
for Xbox 360, Nintendo's
Wii
console is under new pressure from its competition, and smartphone gaming is starting to grow as well to challenge the NDS and PSP. Nintendo will be hoping the 3D capabilities of the 3DS handheld will result in strong sales throughout 2011.
"It's important that we ensure a continuous supply,"
Nintendo President
Satoru Iwata
was quoted as saying by the Nikkei.