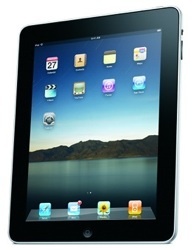 IDC
has reported this week that the
Apple
iPad controls 87.4 percent of the "media tablet" market (as of the Q3), while Amazon controls the standalone e-reader market at 41.5 percent.
A "media tablet" is defined as a 5-to-14-inch tablet shaped device with color displays running lightweight OS, such as
Android
or
iOS
.
By the definition, the Nook Color is considered a media tablet, while the original Nook, which uses a monochrome E-ink display is considered an e-reader only.
Furthermore, IDC separated "tablet PCs" from the group, defining those as running a Windows OS, and being based on x86 processors.
Apple made tablets "trendy" when it launched the iPad in April of last year, and competitors have been scrambling to keep up. The company sold over 7 million devices in the last quarter (Q4), alone.
To date, the biggest competitor has been the
Samsung
Galaxy Tab, which runs on Android 2.2 and has sold 1 million units. Competition is expected to heat up in 2011, as a plethora of powerful dual-core tablets will hit the market running Android 3.0 (tablet-optimized) or webOS.
(Pic via AppleInsider)