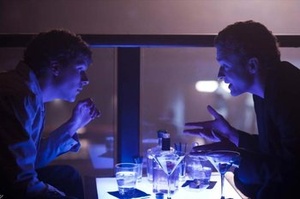 Former Facebook president Sean Parker has said today that the movie "The Social Network" was great, but the plot is "complete fiction."
Sean Parker is played in the film by actor/musician Justin Timberlake.
In the film, Parker is portrayed as a drug-using, paranoid playboy who eventually loses his position at the company after being caught by the police whilst partying with cocaine and under-aged Facebook interns.
When asked about his thoughts on the film, Parker told the DLD media conference (
via Reuters
):
It's a complete work of fiction. I kind of wish my life were that cool. There are no Victoria's Secret models in Silicon Valley."
In the late 90s, Parker co-founded Napster, and the online address book Plaxo later.
Because of his current 7 percent stake in Facebook, Parker will become a multi-billionaire when the company goes public.