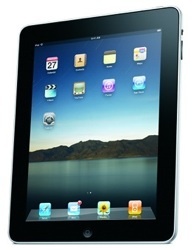 Strategy Analytics
has said today that the iPad has seen its tablet market share fall from almost 96 percent to 75 percent in the last few months, thanks to Android devices.
Android tablets jumped to 21.6 percent while the rest of the share was taken by Windows and other tablet OS.
While technically "Android" encompasses a large number of tablets released in 2010, most of the gains by the OS came from the
Samsung
Galaxy Tab, which shipped over 2 million tablets by the end of the year.
Samsung did admit, however, that it believes hundreds of thousands of those shipped tablets still remain on retail shelves.
Apple
sold 15 million iPads in 2010 after releasing the tablet to much fanfare in April.
Android is expected to take a much larger share of the tablet market after a number of Android 3.0 tablet-optimized devices hit the market, starting with the
Motorola
Xoom this month.
(Pic via Electronista)