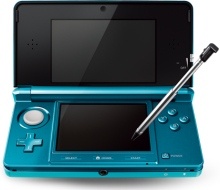 The
Nintendo
3DS has barely been out for 24 hours in Japan and it has already been hacked to run flash carts like the infamous R4.
R4 cards allow gamers to run
homebrew
, play
DS
games, and even run older games, like those from the GameBoy Color.
Two hackers have posted their videos on YouTube, one showing a much older game (Zelda) being played back on the device with the other showing off the DS version of
New Super Mario Bros.
running from R4 cards.
It is important to note that while flash carts can apparently be used on the device already, 3DS-only games are still secure and have not been cracked, although there are likely teams out there already trying to do so, as with every new console.
The news is likely rough for Nintendo, which boasted of the 3DS' increased anti-piracy measures.