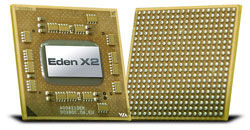 The new VIA Eden X2 dual-core processor has been unveiled at Embedded World 2011.
The company claims the fanless Eden X2 is the world's most power-efficient dual-core processor. It is made for use with a broad range of industrial and commercial embedded systems.

"Eden X2 shows how once again VIA is setting the pace when it comes to highly optimized, power-efficient processing," said Daniel Wu, Vice President, VIA Embedded Platform Division, VIA Technologies, Inc. "Embedded developers will relish the opportunity to integrate a native 64-bit, dual-core processor in passively cooled, ultra stable systems."

Designed with the latest 40nm manufacturing processor, the VIA Eden X2 processors combine two 64-bit, superscalar VIA Eden cores on one die, offering enhanced multi-tasking and superb multimedia performance on a rigidly low power budget.

It also touts VIA VT virtualization, a technology that allows legacy software and applications to be used in virtual scenarios without impacting on performance. The unique VIA AES Security Engine offers hardware-based data encryption on the fly, and essential tool in content protection and system security.

VIA Eden X2 processors are natively 64-bit compatible, facilitating an essential transition for the future of the embedded industry as 64-bit operating systems such as Windows Embedded Standard 7 allow for vastly improved data throughput per clock cycle. It is also fully compatible with the Windows CE and Linux operating systems.

Full technical details aren't being offered yet to backup VIA's claims in its release, but its interesting to note that the original Eden ULV x86 processor clocked 500MHz on just 1 watt.