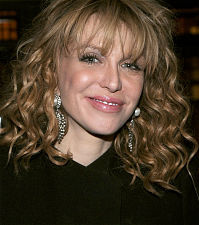 Courtney Love has reportedly settled her Twitter defamation case out of court for $430,000.
In 2009, Love used the micro-blogging service to throw a tirade against fashion designer Dawn Simorangkir (the Boudior Queen), who promptly sued the rocker.
Love will make the payments on a monthly basis from now until 2014.
Simorangkir and Love were in a dispute over a $4000 payment for clothing, and the Boudior Queen says Love's Twitter tirade ruined her reputation and business.
In one of the more nasty tweets, Love called Simorangkir an "a**wipe nasty lying hosebag thief."
Simorangkir's attorney was pleased with the settlement (
via THR
):
The amount of the settlement says it all. Her reprehensible defamatory comments were completely false and $430,000 is quite a significant way to say I am sorry. One would hope that, given this disaster, restraint of pen, tongue and tweet would guide Ms. Love's future conduct.
Love's attorney was also satisfied with the settlement:
Because of the extended payout it's a modest settlement. They got out with an amount that left them bragging rights but nothing else.