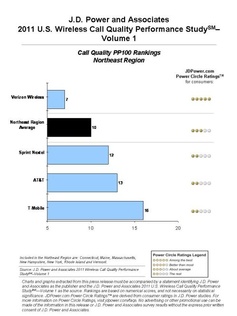 JD Power's latest call quality study has been released this week and unsurprisingly Verizon once again tops the list, for the 13th straight time.
The carrier had the best call quality in the northeast, southeast, southwest and west and tied with AT&T in the mid-atlantic.
In the north central, US Cellular held its annual lead.
The rest of the major carriers were mostly mixed bags, but T-Mobile and AT&T had some terrible scores in some regions. Sprint remained in the middle for all regions.
T-Mobile was by far the worst in the northeast while AT&T took home the lowest score of the study for its showing in the west, anchored by infamously bad coverage in San Francisco.
Interestingly, the company says smartphone users and frequent texters encountered more problems than average, around 13 out of every 100, while average users had 11 problems.
View the rest of the ratings here:
http://www.jdpower.com/Telecom/ratings/Wireless-Call-Quality-Ratings-(Volume-1)/