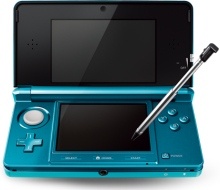 Eurogamer
posted an interesting article today, pointing to the Enterking shop when claiming that the
Nintendo 3DS
may be able to tell when gamers are using a flash cart.
A flash cart gives gamers the ability to play
DS
and
DSi
games from a
microSD
card, or add
homebrew
apps.
When you connect to the Internet,
Nintendo
can then see what systems have been playing pirated games and remotely disable them via
firmware
update.
The Enterking site posted this warning:
Dear customers who resell Nintendo 3DS:

Non-purchase able 3DS system: if you use equipment which is illegal or unapproved by Nintendo or if you do customisation which is unapproved by Nintendo, there is a possibility that Nintendo 3DS becomes non-bootable by system update.

Because of terms of agreement above, Enterking refuses to buy 3DS system with a record of illegal or unapproved equipment.

To protect from leaking your personal and internet connection information we ask customer to format system.
Nintendo responded to the article with the following:
We do not discuss product security details (for obvious reasons), nor can we discuss the details of countermeasures available in the Nintendo 3DS system.

Nintendo 3DS has the most up-to-date technology. The security has been designed to protect both the creative works in the software and to protect the Nintendo 3DS hardware system itself.