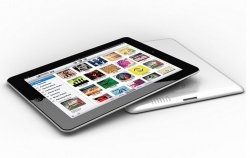 According to
multiple analysts
,
Apple
will likely sell 600,000 iPad 2 during its debut, doubling up on first generation iPad launch sales.
"Apple has such a huge lead,"
says Tim Bajarin of
Creative
Strategies.
"Competitors are going to be chasing Apple for many years."
Bajarian has 20 years experience in the tech sector and expects 500,000 sales.
He expects the bump in sales due to the increased retail partners (Target, Wal-Mart, Best Buy) at launch.
Analysts from Rodman & Renshaw LLC and Piper Jaffray & Co. expect anywhere between 500,000 and 600,000 and Ashok Kumar of R&R even says
"the iPad 2 is essentially the tablet market."
The iPad 2 adds a dual-core A5 processor, a new GPU, dual cameras, is 33 percent thinner and adds first-party apps like iMovie and GarageBand.