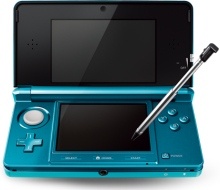 Despite the warning on every
Nintendo 3DS
that it shouldn't be used by any child under the age of 6, optometrists in the U.S are saying that it won't actually harm their vision, and young children should try out the 3D screen as it could help the doctors find vision disorders that must be caught early to treat.
Says Michael Duenas, associate director for health sciences and policy for the American Optometric Association:
The 3DS could be a godsend for identifying kids under 6 who need vision therapy.
Nintendo's latest handheld is on sale in Japan and will hit the U.S. next Sunday with a $250 price tag.
The handheld can display 3D images without the need for special glasses, and can take 3D pictures.
If a child under 6 cannot see the 3D effect, it is a clear sign that they may have amblyopia (lazy eye) or other vision disorders,
says the AOA
.