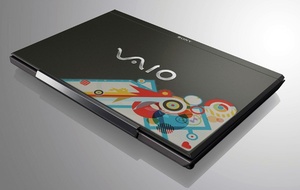 Sony Insider
is reporting today that
Sony
is creating a
Chrome
OS notebook, as well as a "VAIO Hybrid PC."
The Chrome OS notebook will look similar to Google's own Cr-48, but smaller with an 11.6-inch screen. The Cr-48 has a 12.1-inch screen.
Promising different specs than the Cr-48, the upcoming Sony laptop will have a Tegra 2, 1GB
RAM
and a 16GB SSD. The device will weigh 2.2 pounds and provide 8 hours of battery life, around an hour less than the Cr-48.
The Hybrid PC will feature a Core i7 processor, offer outstanding 15 hour battery life, include
Intel
Thunderbolt, and a large internal SSD.
Additionally, the hybrid will "plug into a dock of some sort that adds a
Blu-ray
burner and external graphics (by
AMD
) for gaming and multimedia," says the site.
There are no pictures or word on pricing, but both devices sound interesting.
(pic via engadget)