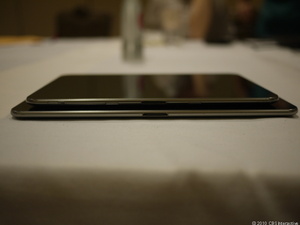 Samsung
has unveiled the 'thinnest tablets ever' today, the Galaxy Tab 8.9 and 10.1.
The tablets are just 8.6mm thin, slightly beating out the iPad 2 which sits at 8.8mm.
In regards to weight, the smaller tablet clocks in at 16.6 ounces and its larger brother is 20.9 ounces. The iPad weighs in at 21.28 ounces.
Each of the devices runs on the tablet-optimized Android 3.0 Honeycomb, and have Samsung's updated TouchWiz UI.
TouchWiz brings "live panels" which allow for content customization. The UI also adds an "app tray" with your most used applications. All widgets are resizable within TouchWiz, and the Wi-Fi app is improved,
says Cnet
.
At launch, however, the devices will have vanilla 3.0, as TouchWiz will be part of a later update.
Each of the tablets run on 1GHz NVIDIA Tegra 2 dual core processors, have 3MP standard cameras, 2MP front-side cameras, 1280x800
resolution
, and full
1080p
playback. Flash 10.2 for tablets is coming soon, although the smartphone version works just fine.
In making sure the tablets are competitively priced, the 10.1 will start at $500 for the 16GB/Wi-Fi model and the 8.9 will start at $469 for the Wi-Fi/16GB model.
HSPA+, LTE and WiMax versions are all coming during the summer.
(Pics via Cnet Review)