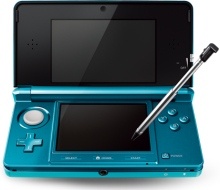 Eurogamer
has reported today that the upcoming
Nintendo 3DS
has an estimated component cost of just £62.
The device will sell in Europe for over £200 including VAT.
It is important to note that while the components cost £62, that does not include R&D or shipping costs.
Nintendo
admitted during its last financial earnings report that the handheld will sell at a profit right out of the gate just like its
Wii
did.
Sony
and
Microsoft
sold their home consoles for under cost for many years, making money solely off accessories and software.
The
3DS
has launched in Japan and will hit the States next week at $250. The European launch is coming soon after.