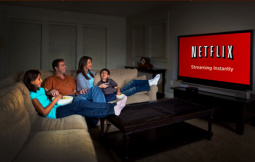 Netflix has confirmed today that the company has been forced to cut
bandwidth
to Canadian subscribers by over 65 percent, due to data caps imposed by Canadian ISPs like Bell and Rogers.
Says the
streaming
and rental company:
We made these changes because many Canadian Internet service providers (ISPs) unfortunately enforce monthly caps on the total amount of data consumed.
Netflix opened for business in Canada in September 2010, offering unlimited streaming for $8 per month.
Because of the cut back
, Netflix says that users stream, on average, 30 hours worth of programming per month, but only use 9GB of data, enough to keep most users under their draconian caps. The company says before the throttling, some Canadians were using 70GB per month watching the same amount of programming in
720p
.
Concludes the company:
While there is some lessening of picture quality with these new settings, the experience continues to be great.