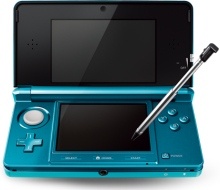 The
Nintendo 3DS
launched in Japan in late February and held the top spot for sales, easily, for the first three weeks.
VG24
has reported this week, however, that for the week ended March 27th, the
PSP
has taken the top spot, following the launch
Final Fantasy IV
Complete.
The
PSP
(Go and 3000) combined for 51,095 unit sales while the
3DS
saw 50,710.
Sony's victory this week looks like a clear anomaly as year-to-date (YTD) figures have the 3DS at 792,954 to the PSP's 584,585. The 3DS has only been out for a month.
Final Fantasy IV Complete was the major factor behind the sales, as the game moved 104,000 copies, tripling up on the next best-selling game, Dynasty
Warriors
7.