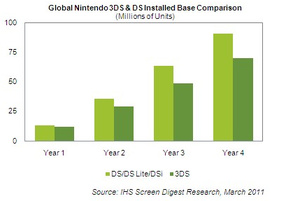 IHS Screen Digest research has said this weekend it expects
Nintendo
to sell 11.6 million
3DS
handhelds in 2011, but overall the console will not be as successful as the previous DS/DSi/DSi
XL
line.
Added competition from tablets, iPod Touches, iPhones and Android smartphones will "prevent the 3DS from matching the sales of the previous-generation Nintendo handheld," says the report.
After four years, the
DS
had an installed base of 91 million users buy IHS says by 2015 the 3DS will have a base of just 70 million devices.
Adds Piers Harding Rolls
, lead games analyst at IHS:
Nintendo's accent on network services in the key U.S. market represents an attempt to convince users to carry their 3DS systems with them at all times and to engage with the platform everyday and in every place. This engagement strategy, alongside 3-D graphics, camera and video, is key to Nintendo competing with upcoming devices from Sony and also from non-specialist smart phones, entertainment devices and tablets, which offer a legitimate alternative to handheld consoles.