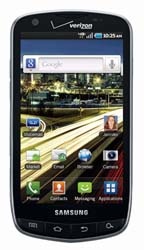 Verizon has said today that Samsung's first
LTE
device, the Droid Charge, will be available on April 28th.
The Droid Charge runs Android 2.2, has a 4.3-inch Super AMOLED screen, a 1GHz processor, an 8MP rear camera with LED flash and a 1.3MP front-side camera.
Samsung
has pre-loaded Flash and the Samsung Media Hub, offering up movies and TV shows for rental or purchase.
Verizon
says
LTE users should have down speeds of 5-12Mbps and upload speeds of 2-5Mbps.
The Droid Charge will also feature mobile hotspot, allowing up to 10 devices to connect to the LTE. For now, Verizon is offering that feature for free.
Starting next week, the Charge will cost $300 with two-year contract, and it comes with free $25 credit to Samsung Media Hub.