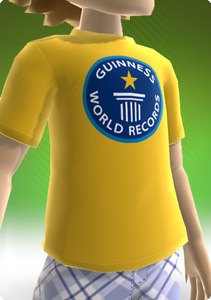 Microsoft
has reminded Xbox gamers in Europe this weekend that their free silver subscriptions will be bumped to Gold for free, and given all Gold features.
The software giant is being generous because it wants to break the Guinness World Record for "largest online 100 meter sprint."
Kinect
Sports owners are being asked to join the attempt, which will be tomorrow at 1pm EST.
Explained
:
Then, all you need to do is play Kinect Sports and complete a sprint mini-game while connected to Xbox LIVE at the time listed below. You must choose sprint from the mini-game menu – not the entire track and field event for your race to count.
The company says every participant will be given an Xbox and Guinness World Record Avatar t-shirt (Pictured).