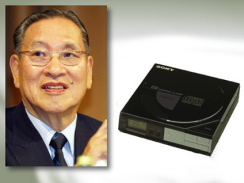 Sony
has announced that former president and chairman Norio Ohga has passed away at age 81.
Ohga is credited with developing the
CD
(compact disc).
A lover of music and former
opera
singer, Ohga made the decision to design CDs at 4.8-inches (75 minutes of music), so it could store the complete Beethoven's Ninth Symphony.
Ohga is also credited with helping expand Sony out of niche into a global player in the audio, video and electronics world.
Says current Sony Chairman Sir Howard Stringer (
via CBS
):
It is no exaggeration to attribute Sony's evolution beyond audio and video products into music, movies and game, and subsequent transformation into a global entertainment leader to Ohga-san's foresight and vision.