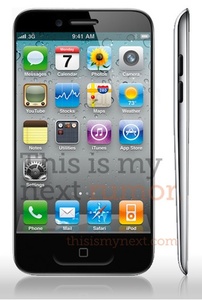 There are conflicting reports surrounding the upcoming iPhone 5, but former Engadget editor-in-chief Joshua Topolsky has fueled the fire by claiming that the iPhone 5 will be completely redesigned to look like the iPod Touch, including a "teardrop" shape where the device goes from thicker to thinner, just like the
MacBook Air
.
Additionally, the "home" button will be expanded to also support gestures. (As seen in mockup)
Furthermore, the screen will also be expanded to 3.7-inches and take up the entire front of the device, leaving no bezel.
Rumors of the larger screen have been around since last year, including the "edge-to-edge" design.
The phone will keep 312dpi
Retina display
, as well, despite the larger screen.
On the other hand,
Macrumors
cites a "reliable" source when saying Engadget's report is completely untrue.