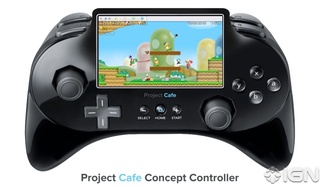 Collecting info from multiple
sources
, the upcoming
Wii
2 is getting more and more details, including a mockup of the next-gen controller.
For now, the console is under codename Project Cafe and may be released very early next year as the
Nintendo Stream.
Under the hood, the Stream will run on a custom-built triple-core IBM PowerPC CPU, with "much" faster clock speeds than the Xbox 360. The
GPU
will be a revamped
AMD
R700 architecture. The system will support full
1080p
output alongside stereoscopic 3D.
For form factor, the system will be the same size as the first-gen Xbox 360s and will look like a "modernized" SNES.
The completely revamped controllers will have integrated touchscreens, with the ability to stream games to each controller. (Check included mockup)
While the console will begin shipping in September, but it appears that Nintendo will not release until early 2012 to ensure they have a huge amount of launch titles and large supply so there are no delays.
Perhaps most importantly, the sources expect the console to sell for $350 at launch, unless Nintendo decides to take a hit on margins and lower the price.