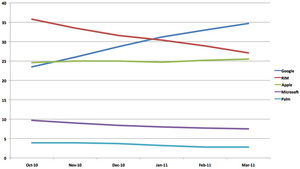 According to the latest comScore MobiLens survey, Android continues to take smartphone market share at a rapid pace, and mainly all at the expense of RIM's BlackBerry line.
The survey polls over 30,000 American smartphone owners.
For the month ended March 31st, BlackBerry fell to 27.1 percent share, with Android jumping to 34.7 percent.
In January,
that number was a lot closer
, with Android at 31.2 percent and BlackBerry at 30.4 percent.
By the same ticket,
Apple
continues to see stagnant share (as a percentage), holding above 24 percent but under 26 percent since October.
Microsoft
has yet to see any significant bounce from the release of Windows Phone 7 and continues its multi-year free fall.