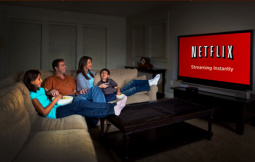 DVD rental and video streaming heavyweight expects large price tag to retain TV Shows and Films.
A deal between
Netflix
and
Liberty Media
's
Starz
network is set to expire early next year. It was originally struck four years ago, costing Netflix $30 million. Starz has the online distribution rights to content from
Walt Disney Co
and
Sony Corp
's
Sony Pictures
.
Netflix now has more than 23 million customers in the United States. It's video streaming service has gained considerable popularity, largely due to its integration with many different platforms (game consoles etc.).
To renew a deal with Starz is certainly going to cost considerably more than $30 million. When asked if the deal could cost up to $200 million, Netflix CEO
Reed Hastings
said that would not be shocking.
"We are paying more for content every time we renew,"
Hastings said
about striking new content agreements.
"We view that as a positive."
Netflix is aggressively pursuing content deals to keep customers happy, targeting popular content such as Glee.