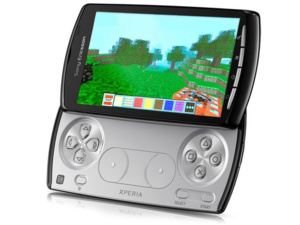 Sony
Ericsson has announced 20 new games for the
Xperia Play
gaming smartphone, including 10 that have been optimized for the device specifically.
There are currently 60 titles available for the Android device.
The biggest new game is probably Minecraft by Mojang.
Minecraft has 8 million registered users and the developer says 50,000 new users join each day.
List
of the new
Android games for the Play:
- Minecraft by Mojang
- Battlefield Bad Company 2 by Electronic Arts
- Tom Clancy's Rainbow 6 Shadow Vanguard by Gameloft
- Desert Winds by Southend Interactive
- Ruined by Bigpoint
- Icebreaker by NaturalMotion
- Sleepy Jack by SilverTree Media
- Cracking Sands by Polarbit
- Aramgeddon Squadron 2 by Polarbit
- Pocket Legends by Spacetime Studios
- Star Legends: The Black Star Chronicles by Spacetime Studios
- Eternal Legacy by Gameloft
- Guns 'n'Glory 2 by HandyGames
- Dungeon Hunter 2 by Gameloft
- Pocket RPG by Crescent Moon Games
- D.A.R.K. developed by Gamelab
- Samurai II: Vengeance by MADFINGER Games
- Vendetta Online by Guild Software
- Order & Chaos - Gameloft
- Happy Vikings by Handy Games
- A Ball Game by Trendy Entertainment
- Lumines by Connect2Media
All of the games will be released within the coming months.