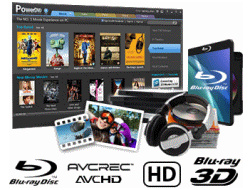 PowerDVD, PowerDirector, MediaShow and MediaEspresso exploit new AMD hardware.
CyberLink has a track record of trying to keep up with hardware advances in its multimedia products. Now, the company has announced that its flagship products - PowerDVD, PowerDirector, MediaShow and MediaEspresso - have been optimized for the latest AMD A-Series Accelerator Processing Units (APU).

Keeping up with hardware evolution means CyberLink customers can benefit from available hardware acceleration for high-definition (and 3D) playback from Blu-ray, AVCHD etc., enhanced video editing and significantly faster video encoding.

"CyberLink is always striving to innovate the next generation of technology that creates the best consumer media entertainment experience possible," said Alice H. Chang, CEO of CyberLink Corp.

"We are delighted to leverage AMD's high-end A-Series APUs on CyberLink's complete product lineup to deliver enhanced and ultra-fast media experiences for consumers."

The popular PowerDVD 11 application leverages hardware acceleration technology of the AMD APUs in decoding Blu-ray, BD3D and AVCHD content, providing smoother Full HD/3D playback with much lower core CPU usage. PowerDirector 9 utilizes AMD Accelerated Parallel Processing (APP) technology to gain 2.2x faster rendering speed in tests.

MediaShow 5 gains accelerated facial recognition (up to 1.2x faster in tests) making it easier to find people in large volumes of photos in the application's library. MediaEspresso 6.5 pushes up the speed of its transcoding processes (up to 1.9x in tests), significantly reducing waiting time for users looking to share their HD videos.

"We are excited to work closely with CyberLink on its flagship products optimized for AMD A-Series APUs, enabling their customers to enjoy supercharged performance, brilliant HD and support for DirectX 11," said John Taylor, director, Client Product and Software Marketing, AMD.

"Bringing a theater-quality experience into the home or on the go is an excellent example of the type of must-have consumer application that APUs are designed to accelerate."