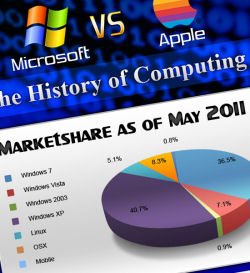 Excellent Infographic spells out major points of history in both companies.
Manolution
has created an infographic (about 3MB) that chronicles some of the major points in the histories of
Microsoft Corporation
and
Apple Inc.
, from their formation in 1975 (officially) and 1976 respectively, right up to the launches of Windows 7, Windows Phone 7 and OS X Lion.
Alone the timeline it gives information on stock value, while giving little nuggets of information alongside product launches of major changes in a company.
Manolution is encouraging everyone to embed the infographic wherever they want, and to
remember to link back to its original source
.
(If viewing this on news homepage, be warned that the image you are about to download is about 3MB in size, so remember that before you click Read More.)