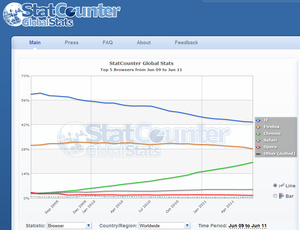 Firefox better stay on its toes.
According to the latest figures from analytics company
StatCounter
, Google's
Chrome
browser now has 20.17 percent of global market share, a huge run from the 2.8 percent it had in June 2009.
The clear leaders, Internet Explorer and
Mozilla
Firefox, have each dropped in the time frame, with IE falling from a commanding 60 percent to 44 percent and Firefox stalling, dropping from 30 percent to 28 percent.
Chrome launched in December 2008 and is now in version 12 (13 if you are beta tester).
The browser took off very quickly due to its sleek "minimalist" design and speed, which have now been replicated by rival browsers looking to win back share.
StatCounter bases data on a sample of 15 billion page views per month from 3 million websites.