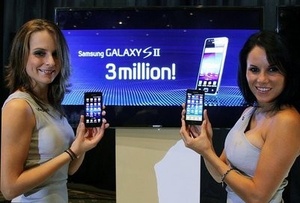 Samsung
has announced today that the
Galaxy S II
is the hottest smartphone in the world, hitting 3 million units sold in just 55 days.
Making the number much more impressive is that fact that the device has not even reached U.S. shores yet, with expected launch date sometime in August.
At 3 million in 55 days, the sales
eclipse
the original Galaxy's 85 days for the milestone.
The phone is also Samsung's fastest selling phone, ever.
When the device hits the U.S., it will sell as the Samsung Function on Verizon, the Within on Sprint and the Attain on AT&T. There is no word on a T-Mobile release, yet.
Samsung has
lofty expectations
for 10 million sales of the Galaxy S II by the end of the year.