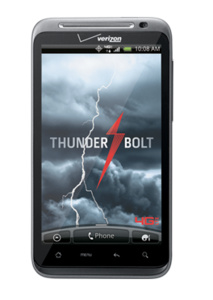 According to a teardown from IHS iSuppli, the popular
HTC
Thunderbolt is the most expensive phone ever built.
The
LTE
smartphone, when disassembled, has a total cost of $262.
For comparison's sake, the Verizon iPhone 4 has a teardown cost of $171.35.
Please note that teardowns do not take R&D and shipping costs into account.
iSuppli says the most expensive component is the Qualcomm MDM9600 4G LTE chip, which cost $40 per device.
Adds the company:
It remains to be seen whether the next Apple iPhone set for introduction in September will support 4G LTE. However, if it does, two things are clear. First, the iPhone's minuscule printed circuit board (PCB) will have to grow in size in order to support the first-generation LTE baseband processor as well as all the supporting chipset.

Second, the next iPhone's BOM value certainly will increase substantially compared to the iPhone 4 if LTE is implemented in the same manner as in the HTC Thunderbolt.
Qualcomm's second-generation slimmer LTE chipsets will be ready by early 2012.
More details here:
iSuppli