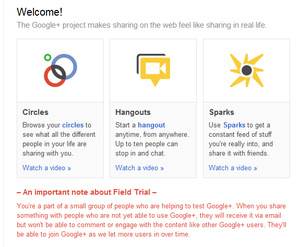 According to analysis from Ancestry.com founder Paul Allen, Google's Google+ social network will hit 20 million users by this weekend.
Allen says the 10 million mark was hit Tuesday afternoon, and the overall user base has increased 350 percent in the last 6 days.
Using "surname-based analysis," Allen used U.S. Census Bureau data about last name popularity and compared it to Google Plus users with the same last name. The researcher used similar tactics for the international markets.
RWW
explains that "Allen used a sample of 100 to 200 surnames to estimate the total percentage of the U.S. population who has signed up for Google Plus. He then used that number and a calculated ratio of U.S. to non-U.S. users (one U.S. user for every 2.12 non-U.S. users) to generate his worldwide estimates."
On July 4th, the model had user count at 1.7 million, and by July 9th that had jumped to 4.5 million.
Google+ is available to all Gmail users, and on Android. An
iOS
app is awaiting
Apple
approval.
For more general information on Google+, check here:
The Google+ project targets Facebook