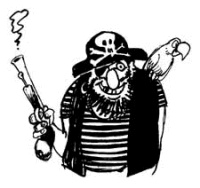 Over the years we have posted many, many cases of Americans being sued over unauthorized
BitTorrent
sharing.
A few of these cases, however, have been so ridiculous that there are little redeeming factors for the groups that brought them, such as the
RIAA
,
MPAA
and others. Some of those cases involved grandmothers, others involved kindergartners, one involved a networked printer and one even involved the recently deceased.
Today, another such case has hit the media, with a 70-year old widow being accused of sharing hardcore porn via torrents.
The group that brought the case will allow her to settle for $3400, or she will have to go to court and risk a fine of $150,000.
Without giving into the horrendous suit, the grandma (who admits she does not even know what a
torrent
is) will not settle and will fight the case, defending herself.
The Jane Doe says she has a quick line of defense (
via TF
)
I'd say to the judge, 'I have no idea how this happened. If Sony can get hacked, if the Pentagon can get hacked, my goodness, what chance does an individual have?