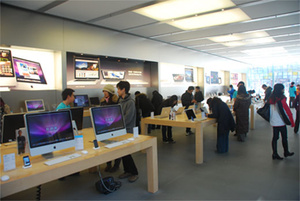 Apple
has completely blown out their quarterly earnings report this afternoon, on the back of strong growth in China and record iPad sales.
Profits for the quarter were $7.31 billion, up 125 percent year-over-year, and revenue was $28.57 billion, up 82 percent YoY.
Following the report, Apple, which closed the day at $376.85 jumped to as high as $405 per share, a new all-time high.
Additionally, the company confirmed it will be releasing Mac OS X 10.7 Lion tomorrow,
as reported earlier
.
iPhone sales jumped 142 percent to 20.34 million units (a record) and iPad sales jumped to 9.25 million units (also a record).
Says CEO Steve Jobs:
We're thrilled to deliver our best quarter ever, with revenue up 82 percent and profits up 125 percent. Right now, we're very focused and excited about bringing iOS 5 and iCloud to our users this fall.
Sales in China, and the Asia-Pacific region in general, had the most explosive growth with COO Peter Oppenheimer saying overall sales in China are up 600 percent "and just beginning."
A few other figures of note from the report was weak Mac sales (3.95 million units, up 13.8 percent YoY), the continued decline in iPod sales (down 20 percent to 7.54 million units) and an overall gross margin of 41.7 percent, huge for any industry.
Apple is also expected to release the iPhone 5 in September.