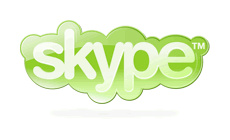 Skype expands number of Android devices that can use video call features dramatically.
The
Skype for Android
application has been updated to v2.1, bringing official support for video calling to 17 Android handsets. You can download the updated Skype for Android app from the
Android Market
or
Skype.com/m
using your Android phone's browser
The Android handsets that Skype has
"officially"
added video call support for include the following...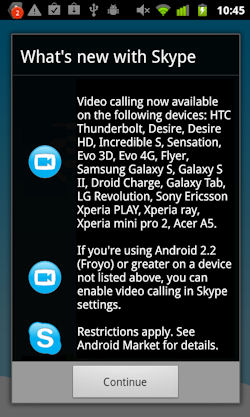 Acer A5
HTC Desire (2.2)
HTC Desire HD
HTC Evo 3D
HTC Evo 4G
HTC Flyer
HTC Incredible S
HTC Sensation
HTC Thunderbolt - Verizon (2.2) (US only)
LG Revolution - Verizon (2.2) (US only)
Samsung Droid Charge - Verizon (2.2) (US only)
Samsung Galaxy S
Samsung Galaxy S II
Samsung Galaxy Tab
Sony Ericsson Xperia mini pro
Sony Ericsson Xperia PLAY
Sony Ericsson Xperia ray
If your Android device is not listed, you will be happy to know that if you are using
Android 2.2 (Froyo)
and above, you should still be able to enable video calling in Skype settings. If the option isn't included, then your decide doesn't meet the minimum requirements for the feature unfortunately.
Skype also warns that the quality of video calling might not be as good as it would be on a certified device, and that only the back camera of the device will work now if you are using Android 2.2.