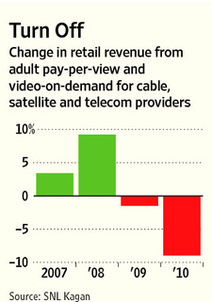 According to the
WSJ
, cable and satellite TV providers are just not selling as much porn as they used to.
While still wildly profitable, revenue on adult VOD and PPV service have been falling, showing consumer's move to the Internet for their pornography.
Over the course of two weeks, Time Warner and DirecTV has directly stated that PPV profits were weaker than expected thanks to "lower adult buys."
Says the Time Warner CEO:
There's been a fairly steady trend over some time period now for adult to go down largely because there's that kind of material available on the Internet for free.
Overall, adult VOD and PPV brought in $899 million in revenue in 2010 for TV providers.