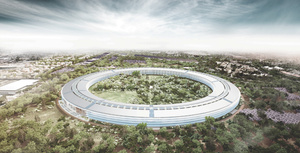 In June,
Apple
CEO Steve Jobs unveiled plans to build a new 3.1 million square foot "Spaceship" campus in Cupertino.
The Cupertino mayor said later that month that there was little to no chance that city officials would reject the plans, and they have not. The building will still be required to pass environmental checks and pass a public hearing, likely early next year.
Said Jobs, in his introduction in June:
It's a pretty amazing building. It's a little like a spaceship landed. It's got this gorgeous courtyard in the middle… It's a circle. It's curved all the way around. If you build things, this is not the cheapest way to build something. There is not a straight piece of glass in this building. It's all curved. We've used our experience making retail buildings all over the world now, and we know how to make the biggest pieces of glass in the world for architectural use. And, we want to make the glass specifically for this building here. We can make it curve all the way around the building… It's pretty cool.
This weekend, Cupertino has released the full plans, with pictures, of the Spaceship.
The location will house an Office, Research and Development Building, a 1,000 seat Corporate Auditorium, a Corporate Fitness Center, 300,000 feet of Research Facilities, a Central Plant, a 150-acre interior courtyard and be home to 12,000 employees.
Check the plans
here
, and
here
and
here.
Pics below: