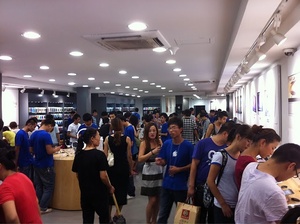 Weeks after pictures and video of the unauthorized
Apple
store in China (including fake Geniuses) made international headlines, the fake store has changed its name to "Smart Store," to avoid any issues with Apple China.
Authorities in the city of Kunming revealed last week that they had found 22 more Apple stores that have not been licensed by the company. Each of the stores have been ordered to stop using the Apple logo anywhere in their stores, and Apple China has accused the stores of unfair competition and trademark infringement.
The re-branded "Smart Store" was facing a shut down if it did not remove Apple trademarks by August 10th, and other stores are facing similar deadlines.
Most likely, each of those stores will change their name and remove the Apple logo from their stores, then continue with business as usual.
Last month,
a blogger living abroad revealed the pictures and video of the store
, which was so elaborate that the workers even believed they were working for the 'real deal.'